This old world charm hotel is strategically located with easy access to the southern business district of Nehru Place, Okhla, and Noida, which is located South, South West of Delhi. This South Delhi 5-Star hotel is ideal also for leisure travelers who want to indulge in numerous sightseeing and shopping activities; Iskon Temple, Lotus Temple, Ambarka Gallery, Akshardham, Humayun's Tomb, Khan Market, South Extension… The thrill of soaking in the F1 experience at the Buddh International circuit located in Greater Noida is a comfortable 55 min drive. According to Review this the best hotel in Delhi.
The 218 guestrooms and suites coupled with popular dining options; Singh Sahib- North Indian cuisine with live music, Empress of China offering oriental cuisine, All-day buffet option at the Blooms, a quaint and serene tea lounge to relax and the uber chic lounge and bar to catch up the day's work has made this a destination hotel for guests visiting Delhi-NCR for world renowned events during the course of the calendar year; Book Fair, Auto Expo, International Trade Show, Jazz Festival and art exhibitions at the Habitat Centre.
The hotel has created a niche for itself as a perfect location to host a plethora of events because of a wide selection of venue options. Each of the venues is well supported by an exhaustive culinary spread, state of the art technical facilities and on ground professional team commissioned to deliver an unforgettable experience. 
The hotel can boast of events ranging from; Elaborate weddings, High-profile C-level meetings to a medical conference hosting over 1000 participants.
Eros Hotel has 6 types of venue for Conferences, Events & Social Gathering.
Governors Room in Eros Hotel
Dimension: 20Ft. X 26Ft. Area: 520 Sq. Ft. (20 Guests)
The ambiance of governors room is perfect for elite decision makers and bold entrepreneurs, who want a corporate yet creative setting for their meetings in Delhi. This 520 sq. ft. room is perfect for a closed-room meeting consisting of 15 to 20 people. With Eros Hotel's technical and business support, this meeting room in Delhi is the perfect location to conduct productive corporate sessions and high-powered business meetings.
Lutyens Lounge in Eros Hotel
Dimension: 70Ft. X 20Ft. Area: 1400 Sq. Ft. (80 Guests Approx.)
This small and private conference room in Eros Hotel, Delhi stands as a suave and flexible setting for small events. Whether you have a conference, professional training seminar, social gathering or an intimate event in mind, this meeting room is the perfect venue to host a stylish and well-designed event for 50 to 60 people.
Lutyens Boardroom in Eros Hotel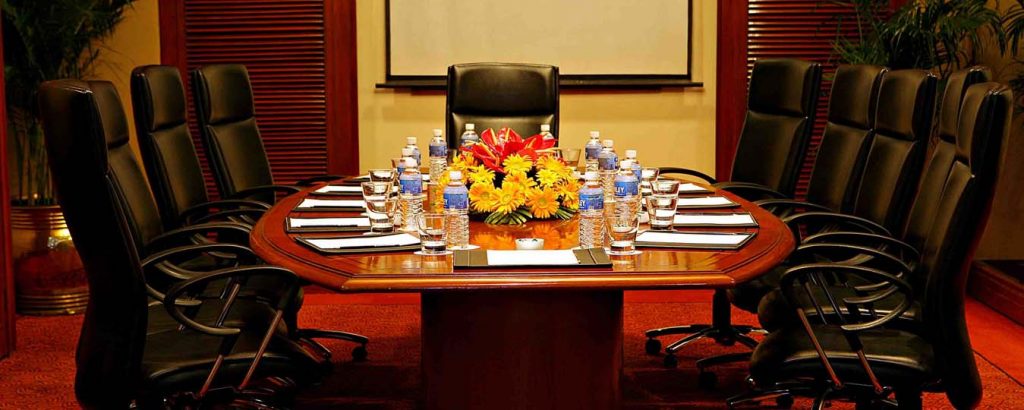 Dimension: 14.9Ft. X 26Ft. Area: 387 Sq. Ft. (12 Guests)
A private meeting without the need for excessive co-ordination and organization is often the ideal way to propel the primary business agenda forward. With Eros Hotel's Lutyens Boardroom, you will find yourself with a venue large enough to comfortably support 12 people, just the right space to have a simple and productive meeting. With our top-of-the-line technical capabilities, customized menus and seamless support, let us help you transform this boardroom into a great setting for business ventures and productive outcomes.
Poolside Lawn in Eros Hotel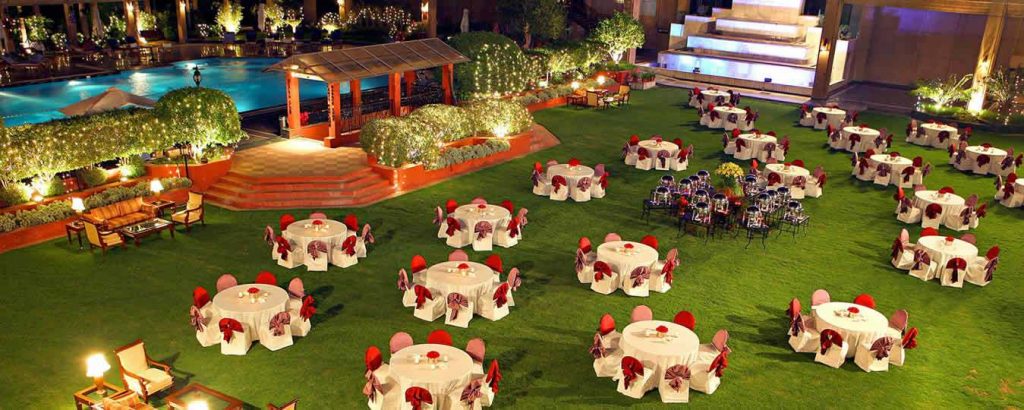 Dimension: 86Ft. X 154Ft. Area: 13244 Sq. Ft. (1000 Guests Approx.)
Highlight the grandeur of your engagement party, wedding, a cocktail party or even that essential business event with the poolside lawn. Complete with a pool-side view and an elegant outdoor setting, this 13,244 sq. ft. facility can easily support an event for approximately 350 people. We also offer inimitable support system, complete with customized menus, technical assistance, event management and theme decor.
Royal Ballroom in Eros Hotel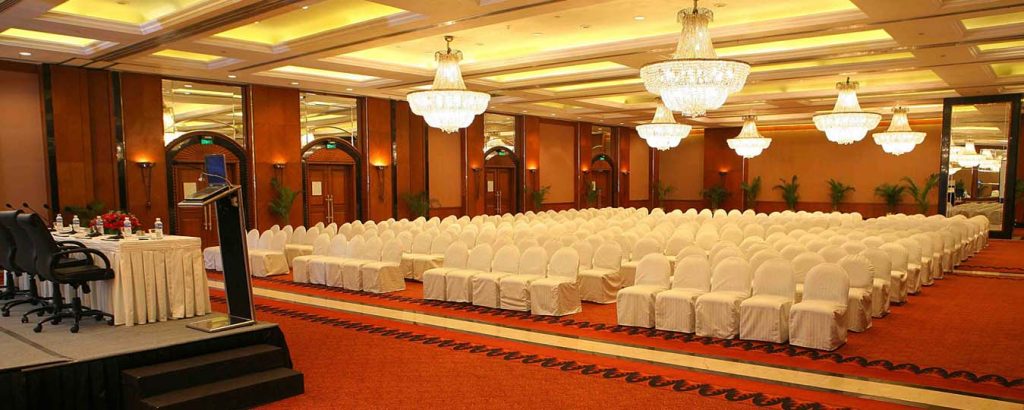 Dimension: 126Ft. X 66Ft. Area: 8316 Sq. Ft. (900-1000 Guests Approx.)
Functioning both as a venue for social gathering as well as a conference room in Delhi, our Royal Ballroom offers an ideal space for any event consisting of approximately 1,000 participants. This multi-functional room of 8,136 sq. ft. stands as an elegant and glamorous choice for conferences, product launches, fashion events, seminars, trainings, cocktail evening, exhibitions and wedding functions. This aptly anointed meeting room in Delhi will lend grace and functionality to any private or business event being conducted.
Viceroys Room in Eros Hotel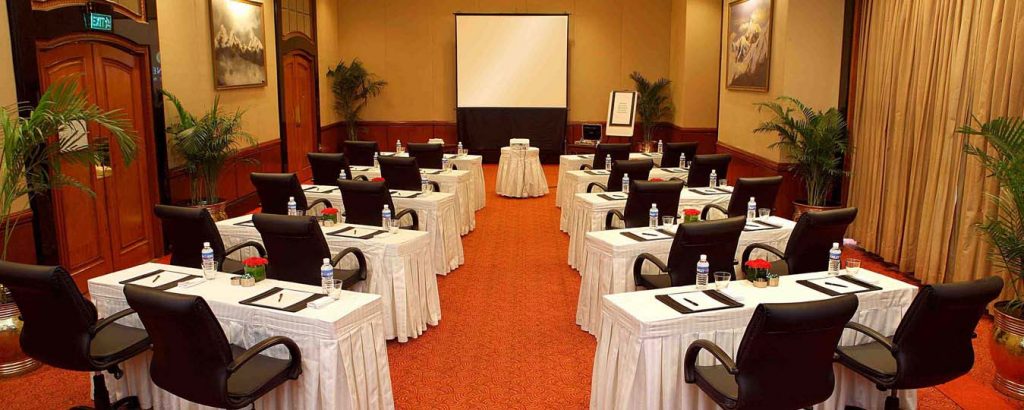 Dimension: 54Ft. X 26Ft. Area: 1404 Sq. Ft. (50-60 Guests Approx.)
Primarily designed to support corporate meetings, this meeting room in Delhi is ideal for events like product promotions, board room discussions and small training sessions. With 1,404 sq. ft. of space available, you can easily support up to 50 to 60 participants, the perfect number for a strong and productive meeting or event. With an attentive and dedicated hospitality staff, your business and technical requirements will be fulfilled, ensuring that your organizers and participants enjoy a productive and profitable experience.